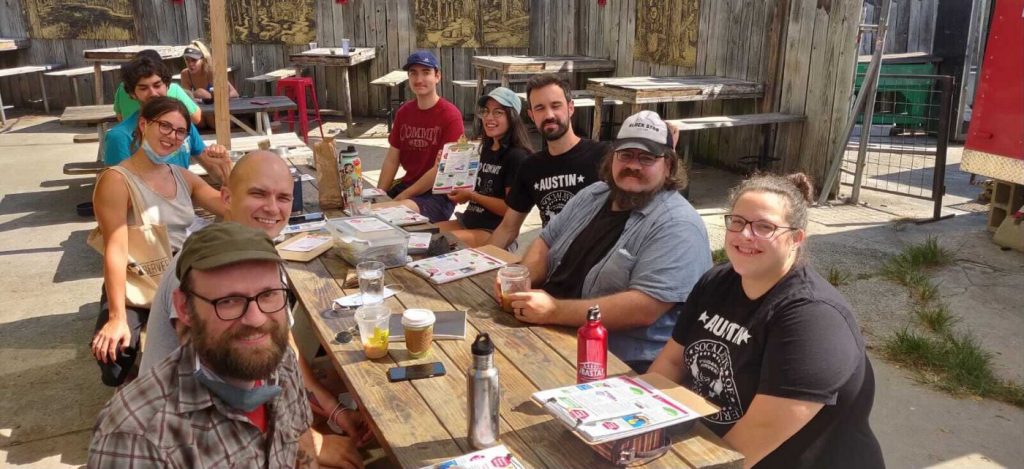 Exciting news: just weeks after Austin DSA began our local campaign for a Green New Deal for Public Schools, Rep. Lloyd Doggett has signed onto this important legislation! Just like our successful 2019 campaign to get Doggett to sign onto Medicare for All, this victory is a testament to the power regular working people have when they organize around popular demands. We all know that getting one elected official to put their support behind a bill is just the first step, however. We can't trust powerful people to deliver gains for the working class on their own. If we want massive public investment in rebuilding and retrofitting public schools and the creation of millions of union jobs in the process, we're going to have to win it ourselves.
That's why we will continue to knock doors every weekend to talk with working-class people about this issue. If you're interested in joining this fight, you should join us for our canvass this Saturday 11AM at Buzz Mill Coffee. If you've never canvassed before, don't worry — inexperienced people will be trained and paired with more experienced canvassers. To ensure that Doggett not only supports this bill, but also also actively fights for it in the House, we will also be holding a rally on Saturday, September 25th at Dove Springs Park Pavilion. Speakers will include Austin DSA members, Education Austin organizers, AISD teachers, IBEW 520 members, Sunrise Movement activists, and a speaker from the AISD School Board. Join us!
This campaign, and all labor and socialist campaigns, are about more than passing one piece of legislation. Our major task today, first and foremost, is creating a powerful, organized working class. Through this local campaign we are bringing together socialists, rank-and-file unionists in education and the building trades, climate activists, and students together in a fight for dignity and justice. We hope to emerge from this fight as a more unified, coherent force that can effectively fight for the things working-class Austinites deserve. It's workers that make this city run and it's workers that should run this city. Workers of all identities from every industry have a shared interest in fighting against the employing class. Together we can win better, climate-resilient schools, we can end homelessness and housing insecurity, we can win reproductive justice and healthcare for all, we can guarantee safe workplaces with living wages, but we're going to need to be a lot more organized. Building a mass movement of working-class people will take a lot of work, but it's the only hope we have if we want to overcome capitalist domination and avert climate disaster. Join our movement today and begin fighting for the future we deserve.
Solidarity forever!
FEATURED EVENTS
Looking to get involved? Here's a list of upcoming events. RSVP to stay updated. You can find all Austin DSA events on the calendar page of our website.
Political Education Committee Meeting
When: Thursday, September 16, 7:00–8:30pm
Where: Zoom! Sign up here.
​The Political Education Committee (PEC) is a subcommittee of the Austin DSA Leadership Committee. Our purpose is to organize regular and special, one-off chapter political education events.
Join us if you are interested in learning how to organize events like Red Square, book talks with invited authors, or if you want help organizing other political education events! This committee meets monthly and we work to train organizers in the skills needed to teach and learn about class struggle with our comrades.
Green New Deal for Public Schools Canvass
When: Saturday, September 18, 11:00am-2:00pm
Where: Buzz Mill Coffee, 1505 Town Lake Dr.! Sign up here.
​Austin DSA is joining the national fight for a Green New Deal for Public Schools championed by our own comrade in New York, Representative Jamaal Bowman.
As part of our pressure campaign to get our House Rep, Lloyd Doggett to sign on as a co-sponsor, we are canvassing the Eastside Memorial High School neighborhood to get support from and build a relationship with the community.
Learn more about the campaign here and join us to knock doors Saturday, September 4th from 11am to 2pm–we will have coffee!
We ask that you please wear masks and are vaccinated.
Green New Deal for Public Schools Campaign Meeting
When: Sunday, September 19, 4:00–5:30pm
Where: Zoom! Sign up here.
Join us for our weekly campaign meeting!
Austin DSA Labor Branch Meeting
When: Monday, September 20, 7:00–9:00pm
Where: Zoom! Sign up here.
Let's talk union!
Red Square: Fighting for Abortion Access in Texas
When: Thursday, September 22, 7:30–9:00pm
Where: Zoom! Sign up here.
Join us for Red Square, Austin DSA's weekly political education and discussion event. Meetings begin with a brief presentation from a DSA member on a salient political topic followed by open discussion. This week we'll discuss abortion access after the passage of SB8 and what we can do in the fight for free, safe, and legal abortion.
If you're new to DSA or democratic socialism, this is a great place to ask questions and engage in low-stakes political discussion with like-minded people. No preparation is required and all are welcome. Please join us if you're a comrade who feels like there's so much to learn, and invite your socialist-curious friends!