by Joshua F
February 6, the workers at a Google (Alphabet) contractor in Austin launched an open-ended unfair labor practice strike. According to Sam Regan, a key organizer on the job and a member of both the national Alphabet Workers Union (AWU) and DSA, over two-thirds of the 61 joint employees of Google and Cognizant Technology Solutions were on the picket line. Most were at the company's physical location and a few who live in other states were off work and streaming via the phones of those on site. Supporters from other local Austin unions were there in solidarity, including the IBEW (electricians), RWU (restaurant workers), TSEU (state employees) and AFSCME (city and county workers) plus other DSA members.
Regan works on the metadata for YouTube's (Google owns YouTube) weekly music top-100 charts and explained generally what his coworkers do: "we analyze and edit music metadata for YouTube music so the data appears consistently and correctly on the platform. For example, we have a team called OAC – Official Artist Channels. They make sure artists' back catalogs are correct and verify the artist. We're the backbone of YouTube music. We provide human oversight to an algorithm that gets it mostly correct."
When asked why they were striking, Regan explained, "we filed for a union election in October. We are a remote team; we've been remote since the beginning of the pandemic. Many of us live out of state. One week after filing for a union election, our employer issued a return-to-office order scheduled February 6. We filed an 'unfair labor practice' because when you file for an election, federal law says that the employer cannot make changes to your working conditions during that period, to prevent retaliation or interfering with the free election process." He clarified that the strike was part of a longer campaign, "we did an escalating series of collective actions aimed at the employer trying to persuade them to postpone the return to office until after the election when we can collectively bargain over the question of remote work. We sent in a petition. We did an email campaign. In every department meeting, we spoke up. On an individual basis, we spoke up to our managers and team leads about it. They ultimately didn't reverse the decision, so the Friday before February 6, we walked out and we're on strike now."
AWU is arguing that Google and Cognizant are their joint employers and believes that the National Labor Relations Board will undo its previously narrow definition of employer. They believe even if it does not, they have evidence that demonstrates their situation fits the current more restrictive rule. Regan noted that while direct Google employees make well into six-figure salaries, at his job, the highest paid in their unit make $50K and the rest make less. "I think Microsoft is the one that set the standard for this two-tiered extended workforce system in tech. Alphabet does it; Facebook does it; I'm sure all the big companies do it. We see our union effort as a piece of this much larger movement. We want to see this two-tier system abolished and see all these workers receive equity of pay and benefits and dignity."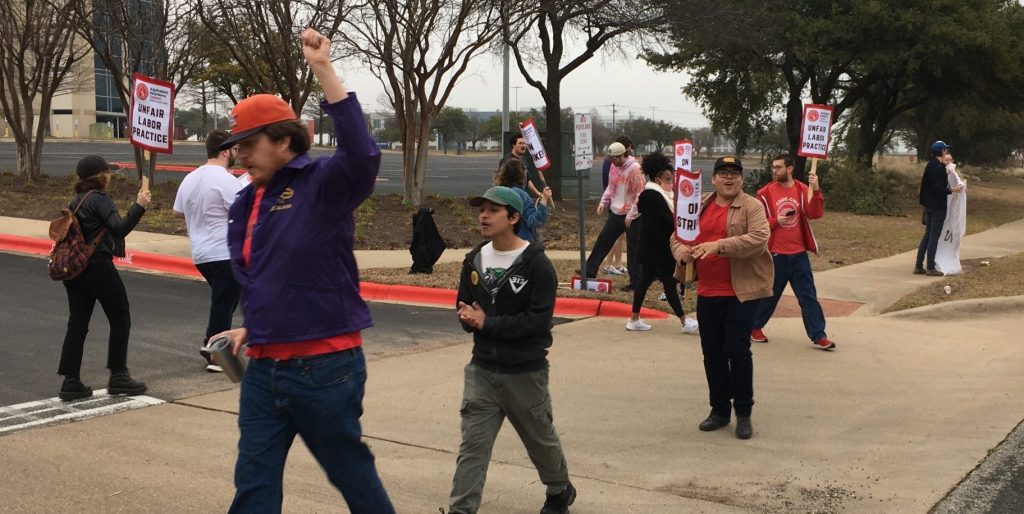 If successful, they could force Google and Cognizant to the table, but overturning the narrow rule regarding who is the employer would help many, many others who work for contractors in innumerable industries, not just tech.
When asked about the main reasons for unionizing in the first place, Regan explained, "Return-to-office has been the primary issue this whole time, in part because almost 20% live out of state. But as we've organized, our vision for the union has expanded a lot. More than half of Google employees are temps, vendors and contractors. This gives Google all the control with none of the liability." While the common stereotype of the tech worker is spoiled and overpaid, the Cognizant workforce as Regan describes it is just "working class. We are extremely underpaid. I'm a music data analyst with a masters degree in electronic music and recording media and I make $19 per hour. I have two other part time jobs. Most of us have another job." Regan sees the union not just as a tool to gain better wages and conditions though: "the union is a source of support and dignity and camaraderie. We hope that unionizing our department will create a more democratic workplace. Our workflows are extremely top-down. In a better world, we would have creative control over how the processes are carried out. The algorithm that generates my work has glaring issues that I know could easily be fixed."
AWU is part of the Communication Workers of America, a union that historically represented primarily workers in the telephone industry but today includes a wide variety of employers including AT&T and Verizon, but also General Electric, The New York Times and Wall Street Journal and the NBC and ABC networks among many others. CWA is involved in numerous organizing campaigns in tech.
The strikers ask supporters to sign their petition and donate to their strike fund.
Joshua F is a member of the Texas State Employees Union and spent many years as a rank & file member, local officer and organizer as a bus driver in Amalgamated Transit Union and flight attendant in the Association of Flight Attendants. He is is a leader in Austin DSA.