Will apologists for police brutality remain?
by Sam K
AUSTIN, Texas – City Manager Spencer Cronk is half-way out the door of Austin city government. As reported by the Austin Chronicle, he will be asked to resign. Despite this, he is relentlessly pushing for a four-year police contract regardless of the will of the City Council. Cronk was hired to be Austin's top administrator after an extensive search, and started work in early 2018. While a lot of focus has been spent on his years of mismanagement and poor communication, his technocratic neoliberal regime turns out to have far more sinister secrets than many previously understood.
The Austin Chronicle has already reported on Cronk's personal ties to James Wood, the Treasurer of "Voters for Oversight and Police Accountability", which is the Austin Police Association's front group. This is the deceptive PAC that spent $287,000 on a competing, feckless alternative Austin Police Oversight Act that fellow Austin DSA member Bennett B. wrote about. This isn't even the tip of the iceberg of Cronk's ties to law enforcement, however. In 2021, Cronk hired Sarah Metcalf Griffin as the Deputy Labor Relations Officer, just as negotiations began between the city and the Austin Police Association on a new labor contract. Griffin has worked as an attorney for Denton Navarro Rocha Bernal & Zec, P.C., also known as "Rampage Law". According to Griffin's LinkedIn page, she still works there. Another member of the "negotiating" team is Rampage Law attorney, Lowell Denton, an outside consultant. This is the same firm the City of Uvalde hired to represent itself just last year and was disqualified from working as outside legal counsel for the City of Austin in a 2002 whistleblower lawsuit. Rampage Law has collected nearly $2M in compensation from the City of Austin at the time of writing.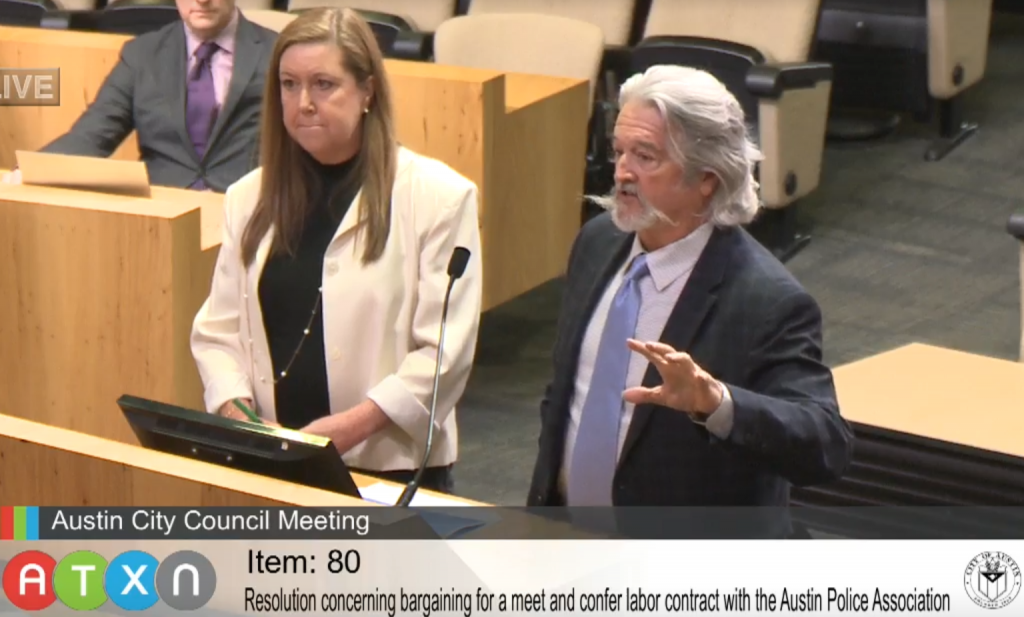 Lowell Denton's law partner is Scott Tschirhart, a former seven-year Houston PD killer-cop-turned-lawyer. In 1983, he beat a handcuffed Bill Dale McCollum and killed Phillip W. Franklin. In 1985 he killed Bennie Lee Young and in 1989, he shot Byron Gillum six times, killing him. Philip, Bennie, and Byron only lived for 22 to 24 years. All four were killed because they're Black. Tschirhart got away with all of it and currently represents infamous former San Marcos PD Sergeant Ryan Hartman, who is being sued for brutally tasing Al Leyva.
Lowell Denton is an attorney of record in 119 federal civil rights cases. And he's not representing the victims of police misconduct. Among those in which he is lead attorney defending police brutality include Barron v. Cuellar in which cops allegedly made an illegal entry into the plaintiff's home, firing dozens of shots into him while taking breaks to reload, killing him. Another of Denton's cases is defending Bexar County, a sheriff, and four sheriff deputies who fired between 18-20 rounds into the mobile home of the Prescott family, killing 6-year-old Kameron. Denton and Rampage were also attorneys for ultra-violent former APD officer Bryan Richter who was shown on video in 2016 throwing Breaion King to the ground twice at a traffic stop. This stirred up national attention as city and police leadership cowered in shame, paying out $425,000 to King yet forcing no change in behaviors or policies.
On February 8, Cronk gave his press conference promoting his purported deal with the cop association on a four-year contract. This looked like a coordinated act of aggression against the reformist wing of Austin City Council. The next day Council split their vote strictly along racial lines: all six white Council Members voted to postpone the vote to move towards a one-year APA contract, and the remaining five Black or Brown Council Members voted against postponing the vote. That morning, the city settled three more lawsuits with victims of police violence. The city has paid out approximately $20M since 2020 with more cases ongoing.
Cronk claims to support both police oversight and accountability measures, and the increase of cops' wages, benefits, and staffing numbers at the same time. But when it came to real city workers in every other department, he took the opposite stance. In negotiations with Austin-Travis County EMS workers, Cronk and his team boxed the medic union into a corner and forced a one-year contract in 2022. When AFSCME Local 1624 called for their wage floor to be raised to $22/hour, Cronk was a hardliner for no more than $18/hour, calling it a "living wage". Yet when it comes to police accountability and oversight, he stacks the deck in favor of the police.
The true face behind the mask of Spencer Cronk has been revealed: he's a cunning cop ally wearing the mask of a "reasonable liberal". How can the city effectively and consistently hold cops accountable when the very question of whether they should be accountable at all is renegotiated every few years? That's one reason why DSA is fighting for Equity Action's Austin Police Oversight Act on May 6th. If the city thought it were possible to negotiate a contract that holds the police accountable, why would they choose attorneys from Rampage Law, a firm that shields police from accountability and transparency?
This is a clear conflict of interest: these attorneys that ostensibly represent our city in its labor negotiations with the Austin Police Department simultaneously have an ongoing financial interest. If the Rampage attorneys are able to help deliver a sweetheart deal to the Austin Police Association in the form of a four-year contract, in likely contravention of the will of the city's voters, this will almost certainly win them referrals from APA and other law enforcement entities. Conversely, it's more than reasonable to assume that if the Rampage attorneys were perceived to be too tough on their police association counterparts in negotiations on the city's behalf, this could hurt their reputation towards them and the other side of the thin blue line. Cronk is done, but Austin will have to keep paying him one-year's salary of $388k. Will they keep paying Rampage Law?
Sam K is a member of Austin DSA leadership and organizes around police brutality. He has an ongoing Federal civil rights lawsuit because he was shot in the eye with a beanbag round in 2020.