Last week, former teacher and socialist candidate Andrew Gonzales defeated incumbent AISD board member Geronimo Rodriguez by 30 points—joining a growing bloc of pro-union representatives on the AISD board of trustees. Gonzales was elected with the power of a movement of union members, socialists, and environmental justice activists behind him. Now it's time to use the power of that movement to fight for better schools, build the power of trade unions, and create climate-friendly schools.
By Nolan R.
---
The working class gained a new representative last week when union teacher and Austin DSA-endorsed School Board candidate Andrew Gonzales won election to AISD Board of Trustees District 6. A coalition of DSA members, union members, and more organized a working class campaign that swept the socialist candidate into office over the incumbent with a 30 point victory. His platform of decarbonizing schools, funding special needs programs and mental health services, ending the school-to-prison pipeline, and improving conditions for students and educators resonated with voters at a time when teachers are leaving their jobs in droves. In a low-information race, engaging with voters face to face makes a critical difference.
Educators are unable to carry out their roles due to growing class sizes, inadequate resources, and insufficient wages in the face of a staggering cost of living crisis. The school board's policy of austerity was established by politicians like Andrew's opponent, Geronimo Rodriguez, a wealthy executive on the board of Ascension Texas. (The same Ascension that was union-busting its organizing nurses last month.) During his tenure as AISD President, Rodriguez diminished public schools in favor of the charter school system, suggesting he thinks education should be governed by the same capitalist logic as the healthcare industry.
Gonzales' victory is part of a broader shift towards working class politics in Austin's school board. For years, the local union of AISD educators has had to work against an unfriendly majority. This election cycle, all five candidates endorsed by Education Austin, the union of staff and teachers in AISD, won election in their districts. For the first time in recent memory, the school board will have a majority of working class teachers, and massive potential to transform our public schools for the better.
But this victory didn't come out of nowhere, and neither will it end here.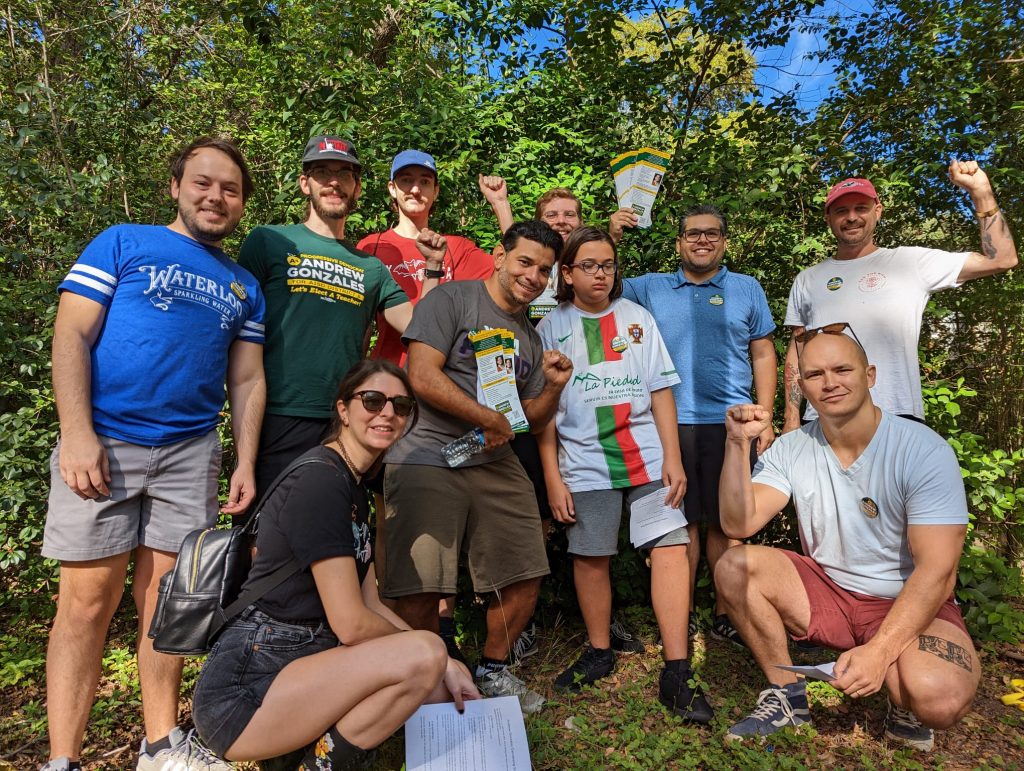 Looking Back
In the months preceding the election Geronimo Rodriguez was feeling pressure from the educators' union and a potential electoral challenge. He delivered a key pro-worker concession in August by introducing the Better Builder Program, which would establish better labor standards for construction work in AISD. This was an uncharacteristically progressive move from Rodriguez, one that the Workers Defense Project has been demanding on a citywide basis.
A coalition of Texas Climate Jobs Action, Education Austin, building trades unions, and Austin DSA organized in support of the legislation, culminating in a presentation of petition signatures and public testimony before the school board. The Better Builder Program passed unanimously, raising the wage floor and benefits for thousands of construction jobs in AISD.
The resolution creates more union jobs, since unionized workplaces are the only ones to offer the necessary wages, benefits, and safety standards. For this reason, some workers in a building trades union coalition meeting suggested supporting Rodriguez for reelection, using the Better Builder program as justification. While the resolution certainly benefits the labor movement in Austin, it was introduced defensively by the anti-worker school board President. As a teacher himself, Andrew Gonzales won't need to be bullied into fighting for the interests of the working class.
The surprise introduction of the Better Builder legislation shortly before campaign season indicates that Rodriguez was worried about a challenge from the left. Rather than win reelection, he strengthened the coalition that would campaign for Andrew Gonzales by providing an issue to organize around. Efforts to pressure the school board to adopt the legislation led directly into Andrew's campaign.
Moving Forward
A good organizing victory leads into the next, and there is a clear direction to take the Green New Deal for Public Schools campaign. A majority of the new school board will be associated with Education Austin, and DSA will continue to foster a relationship with the union and Andrew Gonzales.
Now is the time to identify strategic ecosocialist demands, introduce legislation through our endorsed elected official, and pressure the school board to adopt them.
The success we saw with the Better Builder and Andrew Gonzales campaigns was due to a coalition of Education Austin, building trades unions, and environmental justice groups. Rather than lose our collective momentum, we should craft our demands based on the material interests of all these groups.
AISD Workers
We need to aggressively push the advantage from this election. Currently in AISD, staff don't receive free passes for public transit, like they do in some counties. Teachers also have to pay for school lunches, a major indignity for workers who may struggle to afford groceries. A resolution offering these benefits to educators could strengthen ties with Education Austin.
Building Trade Unions
Installing solar panels on AISD rooftops would create jobs for the building trades unions, reduce the burden on Texas' unreliable power grid, and constitute a solid step towards decarbonizing our schools.
Children & Communities
Some school districts in the country have already established food forests — community-led gardens that grow food-producing trees and other produce, with a focus on mimicking the ecosystems found in nature. Students can learn about nutrition and conservation before taking produce home to their families. Imagine the consequences of funding food forests across AISD: community members in need could rely on getting fresh, free, and healthy produce from any nearby public school.
Thinking as Organizers
As a movement we need to be ambitious. Policies should move us towards green, environmentally friendly schools, while improving conditions for students and educators, creating union jobs, and addressing the cost of living, housing crisis, and food insecurity.
It's a tall order and we'll need more people in our working class movement to get it done. This school board campaign was ideal for introducing new members to organizing. It was a nonpartisan race and most voters hadn't developed a preconception before meeting canvassers. As a result there was less partisan territoriality getting in the way of our message; schools should be working class institutions that provide well-funded services to the community and quality education to students regardless of family income. Going forwards, a greater effort should be made to invite new and potential members to these events.
The next step in the Green New Deal campaign will be to research demands and put together resolutions to introduce to the AISD school board. We'll need support from many members in a variety of roles to be successful. If you're interested, join our weekly campaign meetings to get updates, get more involved, or give your ideas for a green, thriving public school system in Austin! Events are on the chapter's calendar.
Power in AISD has just shifted in favor of the working class, so now is the time to exercise our political imagination! How can Austin's schools be transformed to better educate our students, support the community, and prepare for the future of climate change?
---
We want to hear from you. Do you have a workplace story or editorial you'd like to share with us? Email us at redfault@austindsa.org!